The Drifter
From Destiny 2 Wiki
The Drifter
Information
Name
The Drifter
Title
Rogue Lightbearer
Race
Human
Gender
Male
Location
The Tower
Description
The name says it all.
The Drifter is a Rogue Lightbearer, acting as the interim Hunter Vanguard in place of the late Cayde-6. He manages quests, bounties, and rewards related to Gambit.
Location
Vendor Tooltip
This tooltip appears when hovering over the icon in the upper-left corner of the vendor screen:
Gambit

Complete Gambit matches to earn Gambit Ranks. Winning or completing multiple matches in a row grants additional progress.
Complete Ranks to earn Gambit Engrams.
Earn Gambit weapons at the end of matches, in engrams, or from focusing more weapon perks as you complete up to 4 Rank resets in a Season.
Weekly Challenges
Gambit Rank
"I don't care if you win or lose. I just want you to get paid. Heh." —The Drifter

Complete Gambit matches to gain Gambit Rank points. Complete them back-to-back to increase your activity streak. Earn more points with higher streaks.

Starting a different ritual activity may reduce your streak.
Players can increase their rank with the Drifter (sometimes referred to as Infamy) by completing Gambit matches. Completing matches will also increase the player's Gambit activity streak, granting increased reputation rewards with each match, up to a maximum streak of 5. The player's current streak can be seen by hovering over the reputation icon on the Gambit screen in the Director. Completing Vanguard, Crucible, or Dares of Eternity activities will reduce the player's Gambit streak while adding to those activities' streaks. Players can only have a total of 5 streak progress across all four activity types, rebalancing depending on the activities completed.[1]
Some weeks will feature a modifier that increases the amount of Gambit Rank points gained. When this is active, an "Increased Gambit Rank" modifier will be visible when launching Gambit. This modifier will be active until the next Tuesday reset. Bonus Gambit Rank weeks are usually announced the weekend before through a "Next Week in Destiny" alert in-game.
Rank can be reset to 1 after rank 16 is completed. Resetting rank once will give a chance for weapons obtained from Gambit match completions,
Gambit Engram decryptions, and Focused Decoding to drop with additional Traits in the third and fourth perk columns. The chance and number of additional perks increase with each reset, up to 4 resets.[2]
Ranks
Rank Number
Rank Name
Total Points Needed
Points Until Next Rank
1
GUARDIAN I
0
50
2
GUARDIAN II
50
75
3
GUARDIAN III
125
125
4
BRAVE I
250
250
5
BRAVE II
500
450
6
BRAVE III
950
600
7
HEROIC I
1,550
375
8
HEROIC II
1,925
600
9
HEROIC III
2,525
825
10
FABLED I
3,350
525
11
FABLED II
3,875
775
12
FABLED III
4,650
1,050
13
MYTHIC I
5,700
750
14
MYTHIC II
6,450
1,075
15
MYTHIC III
7,525
1,475
16
LEGEND
9,000
1,000
17
LEGEND
(Maximum Rank)
10,000
N/A
Rank Rewards
Rewards can be obtained when certain ranks are reached. Rank will be automatically reset to 1 at the beginning of the next season, and any unclaimed rewards will be lost.
Past Seasons
See also: The Drifter/Past Seasons
Focused Decoding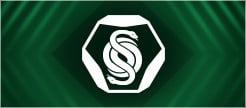 Gambit Engrams, earned by increasing one's rank with the Drifter, can be focused into specific weapons and armor items with random rolls. Alternatively, they can be decrypted from the vendor screen to reward random drops from the current Gambit loot pool. To focus an engram into a specific item, the item must first be unlocked in Collections.
Each item costs 1
Gambit Engram,
25, and
5,000.
Weapons
Decoded weapons will have one trait in the third and fourth perk columns. Resetting rank once with the Drifter will give a chance for these weapons to decode or drop with additional traits in these columns. More resets will increase this chance, as well as the number of additional perks, up to 4 resets.[2]
Armor
Note: The Viperidax Class Items (
Viperidax Mark,

Viperidax Cloak, and
Viperidax Bond) cannot be focused.
Legacy Gear
Gambit Engrams can also be focused into older armor sets that are no longer in rotation. These items can be focused without having acquired them in Collections. However, items will cost more to focus if they have not been previously obtained.
Legacy Armor
If not in Collections, a legacy armor item costs 3
Gambit Engrams,
50, and
10,000.
If in Collections, a legacy armor item costs 1
Gambit Engram,
25, and
5,000.
Legacy Armor I
Legacy Armor II
Quests
Vaulted
Bounties
Daily
The Drifter sells 4 randomly chosen Gambit bounties daily for
250 each. They each reward XP+.
Additional
The Drifter offers repeatable Gambit bounties for
3000 each. They each reward XP and 10
Bright Dust.
Patch History
7.0.0.1[3]

Ritual vendors in the Tower (Zavala, Shaxx, Drifter, Banshee-44, Saladin, Saint-14) now have help tooltips describing the core ritual and reputation, as well as explaining some of the less visible features.
UNLISTED:

Legacy Gear focusing options added to the Drifter.[4]
Gambit Engrams no longer need to be claimed, and can now be decrypted through Drifter's vendor screen.

6.3.0.4[5]
4.0.0.1[6]

Some items that were previously sold by the Drifter or dropped from the Primeval Servitor boss in Gambit now have a small chance of dropping upon completion of a Gambit match.
The Drifter now offers weapon and armor focusing.

New Gambit engrams can be spent on focused equipment from the Drifter, or be decrypted by Master Rahool.
References