Positive Outlook
From Destiny 2 Wiki
Positive Outlook PvP Stats
Positive Outlook
is a
Legendary
Energy
Auto Rifle
.
Perks - Curated Roll
Intrinsic
Precision Frame - This weapon's recoil pattern is more predictably vertical.
Sight / Barrel
Jolt PS - Omolon Post sights. Short zoom.

Increases range
Slightly increases handling speed

Flash HS5 - Omolon red-dot. Medium zoom. Highlights enemy targets.

Increases Range.
Slightly increases Handling Speed.

Transmission MS7 — Omolon ocular technology. Long zoom.

Increases range
Slightly decreases handling speed
Magazine / Battery
Trait
Kill Clip - Reloading after a kill grants increased damage.
Mods
How to Obtain
PvP Profile
Notes
The default shader for this weapon appears to be identical to the Vanguard Magnus shader.
Images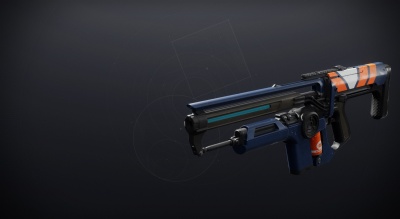 Related Links
---