Autumn Wind
From Destiny 2 Wiki
Autumn Wind
is a
Legendary
Pulse Rifle
.
Perks - Curated Roll
Intrinsic
Rapid-Fire Frame - Deeper ammo reserves. Slightly faster reload when magazine is empty.
Sight / Barrel
Hitmark IS - Agile sight. Short zoom.

Greatly increases Handling Speed.
Slightly increases Range.

Red Dot Micro - Agile sight. Short zoom.

Increases Range.
Increases Handling Speed.

Rifle Scope SSF - Focused scope. Long zoom.

Slightly increases Range.
Slightly decreases Handling Speed.
Magazine / Battery
Accurized Rounds - This weapon can fire longer distances.
Tactical Mag - This weapon has multiple tactical improvements.

Slightly increases Stability.
Slightly increases Reload Speed.
Slightly increases magazine size.
Trait
Under Pressure - Improved stability and accuracy as the magazine gets lower.
Mods
How to Obtain
Detailed explanation on how to acquire Autumn Wind
Notes
The default shader for this weapon appears to be identical to the Endless Glory shader.
Images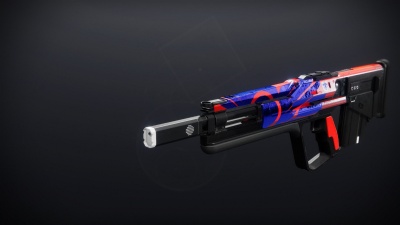 Related Links
---