Seventh Seraph VY-7
From Destiny 2 Wiki
Seventh Seraph VY-7 PvP Stats
Seventh Seraph VY-7 is a Legendary Submachine Gun.
Perks - Curated Roll
Intrinsic
Precision Frame - This weapon's recoil pattern is more predictably vertical.
Sight / Barrel
Corkscrew Rifling - Balanced barrel.

Slightly increases Range and Stability.
Slightly increases Handling Speed.
Magazine / Battery
Appended Mag - This weapon's magazine is built for higher capacity.
Trait 1
Ambitious Assassin - Greatly overflows the magazine based on the number of defeated targets before reloading.
Trait 2
Elemental Capacitor - Substantially increased stats based on the currently equipped subclass.

• [Solar] increases your reload speed.
• [Arc] increases handling.
• [Void] increases stability.
• [Stasis] moderately controls recoil and increases movement speed when aiming down sights.
Perks - Random Rolls
Possible Sight / Barrel
Possible Magazine / Battery
Possible Trait 1
Possible Trait 2
Mods
Images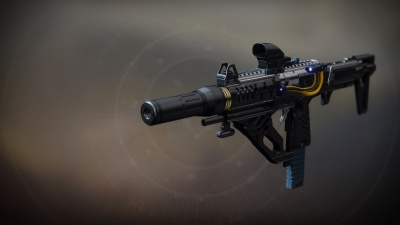 Weapon Ornament
---