Last Perdition
From Destiny 2 Wiki
Last Perdition
is a
Legendary
Pulse Rifle
, which was re-implemented as a Year 2 weapon.
Perks - Curated Roll
Intrinsic
Sight / Barrel
SLO-21 Post - SUROS projection sight. Short zoom.

Increases handling speed
Slightly increases range

SPO-57 Front - SUROS threat evaluation. Medium zoom. Highlights enemy targets.

Greatly increases range
Slightly decreases handling speed

SRO-41 Ocular - SUROS threat evaluation. Long zoom. Highlights enemy targets.
Magazine / Battery
Accurized Rounds - This weapon can fire longer distances.
Tactical Mag - This weapon has multiple tactical improvements.

Slightly increases Stability.
Slightly increases Reload Speed.
Slightly increases magazine size.
Trait 1
Rangefinder - Aiming this weapon increases its effective range and zoom magnification. Increased projectile velocity while aiming Rocket Launchers and Grenade Launchers.
Trait 2
Rampage - Kills with this weapon temporarily grant increased damage. Stacks 3x.
Perks - Random Rolls
Intrinsic
Possible Sight / Barrel
Possible Magazine / Battery
Possible Trait 1
Possible Trait 2
Mods
Empty Mod Socket: Anti-Barrier Ranger, Unstoppable Burst, Boss Spec, Counterbalance Stock, Backup Mag, Freehand Grip, Icarus Grip, Major Spec, Minor Spec, Radar Tuner, Taken Spec, Targeting Adjuster, Radar Booster, Sprint Grip, Rampage Spec, Dragonfly Spec, Surrounded Spec, Quick Access Sling
How to Obtain
Detailed explanation on how to acquire Last Perdition
Notes
Lore
Images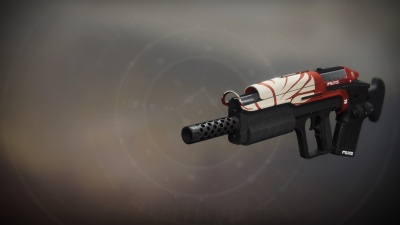 Related Links
---