Enigma's Draw
From Destiny 2 Wiki
Enigma's Draw is a Legendary Sidearm.
Perks - Curated Roll
Intrinsic
Precision Frame - This weapon's recoil pattern is more predictably vertical.
Sight
Control SAS - Stable Sidearm sight.

Increases Handling Speed.
Increases Stability.

Tactic SAS - Accurate Sidearm sight.

Slightly increases Range.

Target SAS - Sharp Sidearm sight.

Increases range
Slightly decreases stability
Slightly decreases handling speed
Magazine
Trait 1
Zen Moment - Causing damage with this weapon increases its stability. Improves base stability.
Trait 2
Rapid Hit - Rapid precision hits temporarily increase stability and reload speed.
Perks - Random Rolls
Possible Sight
Possible Magazine
Possible Trait 1
Possible Trait 2
Mods
Notes
The default shader for this weapon appears to be a worn version of the War Cult Rain shader.
Images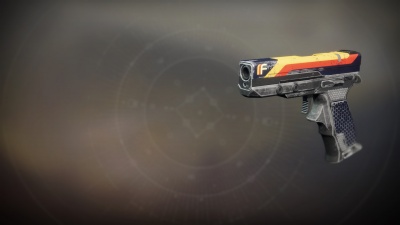 ---