Cold Front (Season 9)
From Destiny 2 Wiki
Cold Front (Season 9) PvP Stats
Cold Front is a Legendary Submachine Gun.
Perks - Curated Roll
Intrinsic
Barrel
Magazine
Flared Magwell - Optimized for fast reloading.

Slightly increases Stability.
Greatly increases Reload Speed.
Trait 1
Zen Moment - Causing damage with this weapon increases its stability. Improves base stability.
Trait 2
Osmosis — Using your grenade ability changes this weapon's damage type to match your subclass until you stow it.
Perks - Random Rolls
Intrinsic
Possible Barrel
Possible Magazine
Possible Trait 1
Possible Trait 2
Notes
Images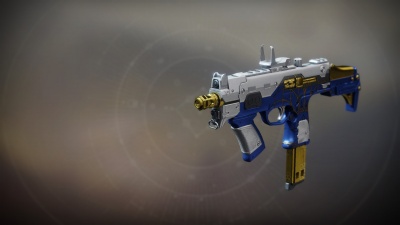 Weapon Ornaments
Perk Changes
Random Rolls
[2]
Patch History
3.0.2[1]

Fixed an issue where Dragonfly could roll on the Cold Front Submachine Gun.
Versions
References
---