Arc Logic
From Destiny 2 Wiki
Acquisition

Found by exploring the Moon.

Arc Logic
is a
Legendary
Auto Rifle
.
Perks - Curated Roll
Intrinsic
Magazine / Battery
Tactical Mag - This weapon has multiple tactical improvements.

Slightly increases Stability.
Slightly increases Reload Speed.
Slightly increases magazine size.
Trait
Moving Target - Increased movement speed and target acquisition when moving while aiming down sights.
Perks - Random Rolls
Intrinsic
Possible Sight / Barrel
Possible Magazine / Battery
Possible Trait 1
Possible Trait 2
Mods
Empty Mod Socket: Anti-Barrier Rounds, Overload Rounds, Boss Spec, Counterbalance Stock, Backup Mag, Freehand Grip, Icarus Grip, Major Spec, Minor Spec, Radar Tuner, Taken Spec, Targeting Adjuster, Radar Booster, Sprint Grip, Rampage Spec, Dragonfly Spec, Surrounded Spec, Quick Access Sling
How to Obtain
Detailed explanation on how to acquire Arc Logic
Notes
Lore
Images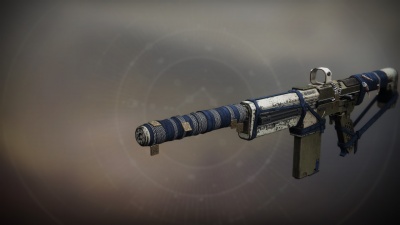 Related Links
---