The Hero's Burden (Season 5)
From Destiny 2 Wiki
The Hero's Burden (Season 5) PvP Stats
The Hero's Burden is a Legendary Submachine Gun.
Perks - Curated Roll
Intrinsic
Sight
SLO-12 Post - SUROS projection sight. Short zoom.

Greatly increases handling speed

SPO-26 Front - SUROS lightweight red-dot sight. Short zoom.

Increases handling speed
Increases range
Magazine
Appended Mag - This weapon's magazine is built for higher capacity.
Flared Magwell - Optimized for fast reloading.

Slightly increases Stability.
Greatly increases Reload Speed.
Trait 1
Moving Target - Increased movement speed and improved target acquisition when moving while aiming down sights.
Trait 2
Kill Clip - Reloading after defeating a target grants increased damage for an improved duration.
Perks - Random Rolls
Intrinsic
Possible Sight
Possible Magazine
Possible Trait 1
Possible Trait 2
Mods
Empty Mod Socket: Overload Rounds, Boss Spec, Counterbalance Stock, Backup Mag, Freehand Grip, Icarus Grip, Major Spec, Minor Spec, Radar Tuner, Taken Spec, Targeting Adjuster, Radar Booster, Sprint Grip, Rampage Spec, Dragonfly Spec, Surrounded Spec, Quick Access Sling
Notes
Images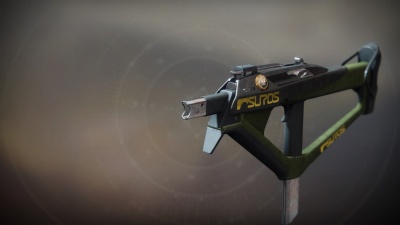 Versions
---