Stochastic Variable
From Destiny 2 Wiki
Stochastic Variable PvP Stats
Optimal Time-to-Kill
0.93s
Optimal Kill
12 crit 3 body
Body Shot Time-to-Kill
1.20s
Body Shots to Kill
19 body
Crit Damage
14
Body Damage
11
Stochastic Variable
is a
Legendary
Submachine Gun
.
Perks - Curated Roll
Intrinsic
Sight / Barrel
Candle PS - Omolon post sight. Short zoom.

Greatly increases Handling Speed.
Slightly increases Range.

Torch HS3 — Omolon red-dot. Medium zoom.

Greatly increases range
Slightly decreases handling speed
Magazine / Battery
Trait
Tap the Trigger - Grants a short period of increased stability and accuracy on initial trigger pull.
How to Obtain
Detailed explanation on how to acquire Stochastic Variable
Notes
The default shader for this weapon appears to be a worn version of the War Cult Camo shader.
Images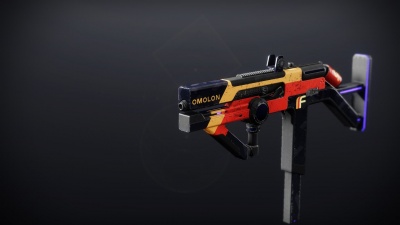 Related Links
---