Stochastic Variable
From Destiny 2 Wiki
Stochastic Variable PvP Stats
Stochastic Variable
is a
Legendary
Submachine Gun
.
Perks - Curated Roll
Intrinsic
Sight / Barrel
Arrowhead Brake - Lightly vented barrel.

Greatly controls Recoil.
Increases Handling Speed.
Magazine / Battery
High-Caliber Rounds - Shots from this weapon knock the target back farther.

Slightly increases Range.
Trait 1
Under Pressure - Improved stability and accuracy as the magazine gets lower.
Trait 2
Unrelenting - Rapidly defeating targets triggers health regeneration. Guardians and powerful combatants count as more than one kill.
Perks - Random Rolls
Intrinsic
Possible Sight / Barrel
Possible Magazine / Battery
Possible Trait
How to Obtain
Detailed explanation on how to acquire Stochastic Variable
Notes
Lore
"However certain we are of our simulations, they always contain an element of unpredictability." —Lakshmi-2
Lakshmi-2 : faction head : Exo : politician

1 : the Eliksni Quarter : screaming : a crackling portal : treachery : Fallen attack : we're being overrun : where are the Guardians—

2 : the Last City : the Tower in ruins : Fallen scavengers sift the rubble—

3 : the Last City : radioactive dust : Dark growths in the ruins: where is the Traveler : mutated Ghosts—

4 : the Eliksni Quarter : a crackling portal : Asher speaks : Fallen being attacked : Dead Orbit overhead : Saint-14 besieged : FWC surrenders—

5 : the Eliksni Quarter : the Endless Night : a crackling portal : Mithrax firing wildly : the Cult flees : Ikora triumphant—

6 : the Eliksni Quarter : a crackling portal : snipers fire down : blood runs in the gutter : an Ether tank explodes : the Endless Night : Asher speaks : those FWC traitors—

7 : the Botza District : a crackling portal : Fallen flee : FWC banners : Zavala is gone : Mithrax on trial : Lakshmi-2 looks over the crowd—

Lakshmi-2 : head of state : Exo : prophet : savior
Images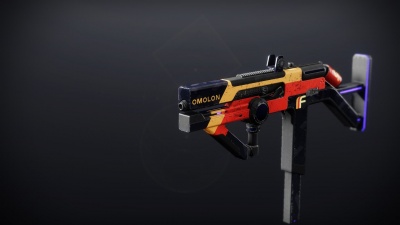 Related Links
---