Seventh Seraph Officer Revolver
From Destiny 2 Wiki
Seventh Seraph Officer Revolver PvP Stats
Seventh Seraph Officer Revolver is a Legendary Hand Cannon.
Perks - Curated Roll
Intrinsic
Precision Frame - This weapon's recoil pattern is more predictably vertical.
Sight / Barrel
Arrowhead Brake - Lightly vented barrel.

Greatly controls Recoil.
Increases Handling Speed.
Magazine / Battery
Trait 1
Firmly Planted - Increased accuracy, Stability, and Handling when firing while crouched.
Trait 2
Feeding Frenzy — Kills with this weapon increase reload speed for a short time.
Perks - Random Rolls
Possible Sight / Barrel
Possible Magazine / Battery
Possible Trait 1
Possible Trait 2
Mods
Images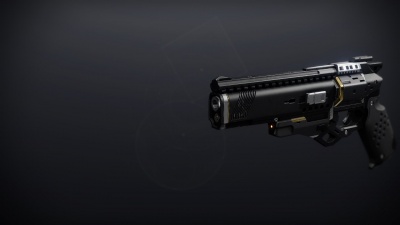 ---