Seventh Seraph SAW
From Destiny 2 Wiki
Seventh Seraph SAW PvP Stats
Seventh Seraph SAW is a Legendary Machine Gun.
Perks - Curated Roll
Intrinsic
High-Impact Frame - Slow firing, and high damage. This weapon is more accurate when stationary and aiming down sights.
Sight / Barrel
Arrowhead Brake - Lightly vented barrel.

Greatly controls Recoil.
Increases Handling Speed.
Magazine / Battery
Armor-Piercing Rounds - Rounds cause extra damage to shields and overpenetrate targets.

Slightly increases Range.
Trait 1
Grave Robber - Melee kills reload a portion of the magazine.
Trait 2
Vorpal Weapon - Increased damage against bosses, vehicles, and Guardians with their Super active.
Perks - Random Rolls
Possible Sight / Barrel
Possible Magazine / Battery
Possible Trait 1
Possible Trait 2
Mods
Images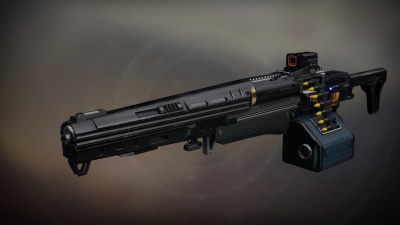 ---