Escape Velocity
From Destiny 2 Wiki
Escape Velocity PvP Stats
Optimal Time-to-Kill
0.93s
Optimal Kill
12 crit 3 body
Body Shot Time-to-Kill
1.20s
Body Shots to Kill
19 body
Crit Damage
14
Body Damage
11
Escape Velocity is a Legendary Submachine Gun.
Perks - Curated Roll
Intrinsic
Sight
IS 2 Classic — Rugged and simple iron sights. Short zoom.

Increases handling speed
Slightly increases range

IS 5 Circle - Circular iron sights. Short zoom.

Greatly increases Handling Speed.
Magazine
High-Caliber Rounds - Shots from this weapon knock the target back farther.

Slightly increases Range.

Steady Rounds - This magazine is optimized for recoil control.

Greatly increases Stability.
Slightly decreases Range.
Trait 1
Grave Robber - Melee final blows reload this weapon's magazine from reserves. Improves reload.
Trait 2
Quickdraw - This weapon can be drawn unbelievably fast. Handling is improved.
Perks - Random Rolls
Possible Sight
Possible Magazine
Possible Trait 1
Possible Trait 2
Mods
Notes
The default shader for this weapon appears to be a worn version of the Dead Orbit's Fate shader.
Images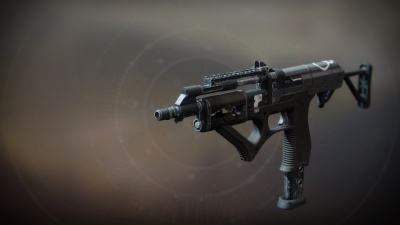 ---