Death Adder
From Destiny 2 Wiki
Acquisition

Season of Arrivals dungeon.

Death Adder PvP Stats
Optimal Time-to-Kill
0.93s
Optimal Kill
12 crit 3 body
Body Shot Time-to-Kill
1.20s
Body Shots to Kill
19 body
Crit Damage
14
Body Damage
11
Death Adder is a Legendary Submachine Gun.
Perks - Curated Roll
Intrinsic
Sight / Barrel
Smallbore - Dual strength barrel.

Increases Range.
Increases Stability.
Magazine / Battery
Steady Rounds - This magazine is optimized for recoil control.

Greatly increases Stability.
Slightly decreases Range.
Trait 1
Hip-Fire Grip - Increases accuracy, stability, and precision hit targeting when firing from the hip.
Trait 2
Eye of the Storm - This weapon becomes more accurate and boosts handling as your health gets lower.
Perks - Random Rolls
Possible Sight / Barrel
Possible Magazine / Battery
Possible Trait 1
Possible Trait 2
Notes
The default shader for this weapon appears to be identical to the Echoes of Io shader.
Images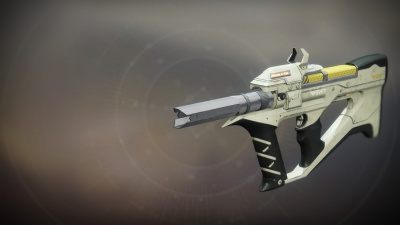 ---