EDZ, Earth
From Destiny 2 Wiki
"European Dead Zone was ground-zero for a cataclysmic event that left a massive shard of The Traveler — the source of every Guardian's power and immortality — embedded in the vast landscape. For years, only wild vegetation and the remains of an abandoned city were evidence of our forgotten past. Now, the Red Legion are using the European Dead Zone as a staging ground for their war machine.".
EDZ or European Dead Zone is a patrol zone on Earth that contains ruins back from the Golden Age. The region also features old signs in German, which suggests that it might be located in former Austria, Switzerland, or Germany. EDZ is an active warzone, where forces of Fallen, Taken, and Cabal constantly clash.
Overview
One of the zones most important landmarks is a huge shard that got broken off of the Traveler during the cataclysmic events of the Collapse. When it was discovered, Guardians started traveling to EDZ to regain their powers. Cabals Red Legion started occupying EDZ after the invasion on The Last City.
EDZ can be accessed by completing A Guardian Rises story mission. It contains 5 landing zones. Sunken Isles on the Northwest, The Gulch on the North that's connected to The Sludge, Trostland on Southeast, and Winding Cove on the South.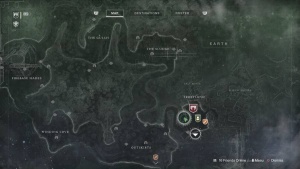 Other crucial locations include the Outskirts and Firebase Hades, which is Cabals Red Legion base on the North. This is also the place where you can start The Arms Dealer Strike and engage in patrols to help Vanguard, Suraya Hawthorne, and Devrim Kay establish the control of the area.
Activities
The Farm
The Farm is the social space of Destiny 2. Located on Earth, it is a place where players can pick up Adventures and purchase gear at vendors. There are also some other fun activities that are available in The Farm. One confirmed activity is a soccer pitch, complete with goals that count your score. The activities are meant to be a way to draw attention to yourself to show off your gear.
The Tower
Sectors in EDZ
Patch History
References