Distant Tumulus
From Destiny 2 Wiki
Distant Tumulus PvP Stats
Distant Tumulus is a Legendary Sniper Rifle.
Perks - Curated Roll
Intrinsic
Rapid-Fire Frame - Deeper ammo reserves. Slightly faster reload when magazine is empty.
Barrel
Smallbore - Dual strength barrel.

Increases Range.
Increases Stability.

Arrowhead Brake - Lightly vented barrel.

Greatly controls Recoil.
Increases Handling Speed.

Extended Barrel - Weighty barrel extension.

Increases Range.
Decreases Handling Speed.
Magazine
Extended Mag - This weapon has a greatly increased magazine size, but reloads much slower.

Greatly increases magazine size.
Greatly decreases Reload Speed.

Flared Magwell - Optimized for fast reloading.

Slightly increases Stability.
Greatly increases Reload Speed.
Trait 1
Pulse Monitor - Automatically reloads the magazine and improves weapon handling when wounded—even when this weapon is stowed.
Trait 2
Opening Shot - Improved accuracy and range on the opening shot of attack.
Perks - Random Rolls
Possible Barrel
Possible Magazine
Possible Trait 1
Possible Trait 2
Mods
Images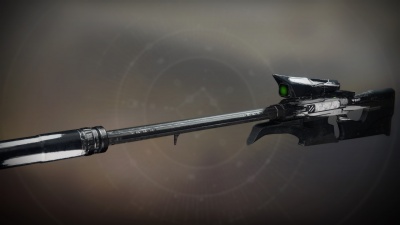 ---