The Guiding Sight
From Destiny 2 Wiki
The Guiding Sight PvP Stats
Optimal Time-to-Kill
1.20s
Optimal Kill
4 crit
Body Shot Time-to-Kill
2.00s
Body Shots to Kill
6 body
Crit Damage
52
Body Damage
37
The Guiding Sight
is a
Legendary
Scout Rifle
.
Perks - Curated Roll
Intrinsic
High-Impact Frame - Slow firing, and high damage. This weapon is more accurate when stationary and aiming down sights.
Sight / Barrel
Cleanshot IS - Snapshot sight. Short zoom.

Increases Handling Speed.
Slightly increases Range.
Magazine / Battery
Tactical Mag - This weapon has multiple tactical improvements.

Slightly increases Stability.
Slightly increases Reload Speed.
Slightly increases magazine size.
Trait 1
Slideshot - Sliding partially reloads this weapon's magazine and temporarily boosts range and stability.
Trait 2
Vorpal Weapon - Increased damage against bosses, vehicles, and Guardians with their Super active.
Perks - Random Rolls
Intrinsic
Possible Sight / Barrel
Possible Magazine / Battery
Possible Trait
How to Obtain
Detailed explanation on how to acquire The Guiding Sight
Notes
The default shader for this weapon appears to be identical to the Iron Battalion shader.
Lore
Images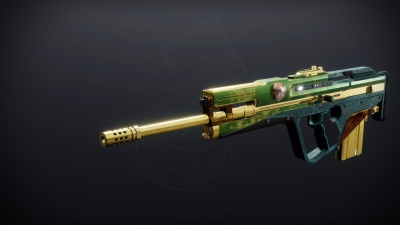 Related Links
---