The Fool's Remedy
From Destiny 2 Wiki
The Fool's Remedy PvP Stats
Optimal Time-to-Kill
0.93s
Optimal Kill
6 crit 2 body
Body Shot Time-to-Kill
1.20s
Body Shots to Kill
10 body
Crit Damage
27
Body Damage
20
The Fool's Remedy is a Legendary Sidearm.
Perks - Curated Roll
Intrinsic
SUROS Rapid-Fire — Full Auto. Deeper ammo reserves. Slightly faster reload when magazine is empty.
Sight / Barrel
Control SAS - Stable Sidearm sight.

Increases Handling Speed.
Increases Stability.
Magazine / Battery
Ricochet Rounds - Rounds ricochet off hard surfaces.

Increases Stability.
Slightly increases Range.
Trait 1
Pulse Monitor - Automatically reloads a portion of the magazine when critically wounded.
Trait 2
Iron Grip — Massively improves weapon stability at the cost of reload speed.
Perks - Random Rolls
Possible Sight / Barrel
Possible Magazine / Battery
Possible Trait 1
Possible Trait 2
Notes
The default shader for this weapon appears to be identical to the Iron Battalion shader.
Images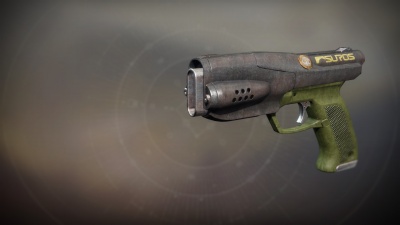 ---