Go Figure
From Destiny 2 Wiki
Go Figure is a Legendary Pulse Rifle.

Perks - Curated Roll
Intrinsic
Magazine / Battery
Trait
Kill Clip - Reloading after defeating a target grants increased damage for an improved duration.
Firmly Planted - Greatly increased accuracy, stability, and handling when firing while crouched.
Perks - Random Rolls
Intrinsic
Possible Sight / Barrel
Possible Magazine / Battery
Possible Trait 1
Possible Trait 2
Mods
Empty Mod Socket: Anti-Barrier Ranger, Unstoppable Burst, Boss Spec, Counterbalance Stock, Backup Mag, Freehand Grip, Icarus Grip, Major Spec, Minor Spec, Radar Tuner, Taken Spec, Targeting Adjuster, Radar Booster, Sprint Grip, Rampage Spec, Dragonfly Spec, Surrounded Spec, Quick Access Sling
How to Obtain
Notes
Aggressive Burst causes Go Figure to fire 4 bullets per burst instead of the usual 3 bullets.
Lore
Images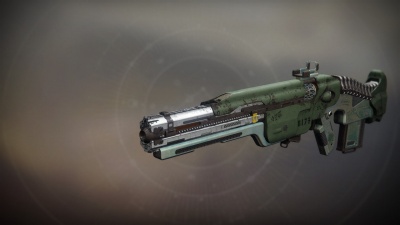 Related Links
---