Shepherd's Watch
From Destiny 2 Wiki
Shepherd's Watch PvP Stats
Crit Damage
325
Body Damage
130
Time Between Shots
0.67s
Shepherd's Watch
is a
Legendary
Sniper Rifle
.
Perks - Curated Roll
Intrinsic
Sight / Barrel
Zoom 30 Focus - Powerful scope. Long zoom.

Greatly increases range
Decreases handling speed

Zoom 10 Point — Balanced scope. Short zoom.

Increases handling speed
Slightly increases range
Magazine / Battery
Ricochet Rounds - Rounds ricochet off hard surfaces.

Increases Stability.
Slightly increases Range.

Accurized Rounds - This weapon can fire longer distances.
Trait
Moving Target - Increased movement speed and target acquisition when moving while aiming down sights.
How to Obtain
Detailed explanation on how to acquire Shepherd's Watch
Notes
The default shader for this weapon appears to be a worn version of the Echoes of Io shader.
Images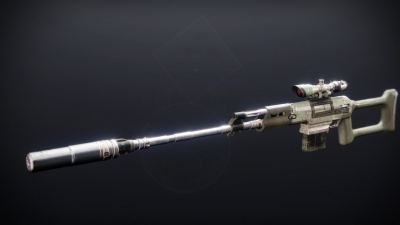 Related Links
---