Inaugural Address
From Destiny 2 Wiki
Inaugural Address PvP Stats
Optimal Time-to-Kill
1.07s
Optimal Kill
3 bursts (7 crit 2 body)
Body Shot Time-to-Kill
1.87s
Body Shots to Kill
4.33 bursts (13 body)
Crit Damage
24
Body Damage
16
"bursts(13body)" is not declared as a valid unit of measurement for this property.
Inaugural Address is a Legendary Pulse Rifle.


Perks - Curated Roll
Intrinsic
Sight / Barrel
Magazine / Battery
Trait
How to Obtain
Detailed explanation on how to acquire Inaugural Address
Notes
Lore
I wanted a desert of pure white sand to stage my celebration. It took them three days to clear the wasteland of any stone or plant of offending color, but when they were done, it was a perfect canvas for the violet pavilion. We recreated my court in nearly every detail beneath the glinting sun.
The first act of my coronation was to have the Consul kneel at my feet. He was a pathetic figure, stripped of title, rank, and clothing. He would never wield power again, and would beget no heir. I made sure of that personally.
I had only a single word for him: "Run."
Images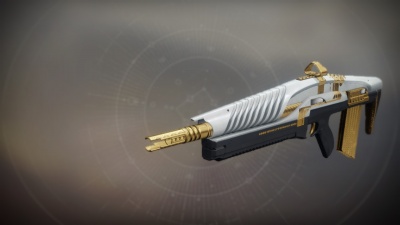 Related Links
---