The Comedian (Adept)
From Destiny 2 Wiki
Acquisition

Season of the Lost Nightfall Grandmaster

The Comedian (Adept) PvP Stats
The Comedian (Adept) is a Legendary Shotgun.
Perks - Curated Roll
Intrinsic
Barrel
Rifled Barrel - Ranged shotgun barrel.

Increases range
Greatly decreases handling speed
Magazine
Assault Mag - This shotgun's magazine is optimized for quick combat.

Greatly increases Stability.
Increases Rate of Fire.
Trait 1
Subsistence - Defeating targets partially reloads the magazine from reserves with an increased amount of ammo.
Trait 2
Adrenaline Junkie - This weapon gains increased damage and handling from final blows with grenades or this weapon.
Perks - Random Rolls
Intrinsic
Possible Barrel
Possible Magazine
Possible Trait 1
Possible Trait 2
Notes
Images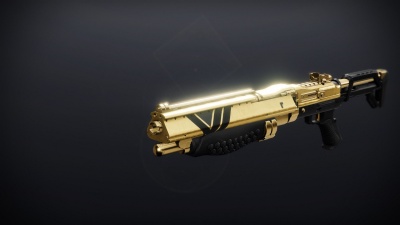 Related Links
References
---