Impromptu-49
From Destiny 2 Wiki
Impromptu-49
is a
Legendary
Pulse Rifle
.
Perks - Curated Roll
Intrinsic
Sight / Barrel
SLO-12 Post - SUROS projection sight. Short zoom.

Greatly increases handling speed

SPO-28 Front - SUROS holo sights. Medium zoom.

Increases range
Slightly increases handling speed

SRO-52 Ocular — SUROS ranged combat scope. Long zoom.

Greatly increases range
Decreases handling speed
Magazine / Battery
Ricochet Rounds - Rounds ricochet off hard surfaces.

Increases Stability.
Slightly increases Range.

Accurized Rounds - This weapon can fire longer distances.
Trait
Ambitious Assassin - Greatly overflows the magazine based on the number of defeated targets before reloading.
Mods
How to Obtain
Detailed explanation on how to acquire Impromptu-49
Notes
The default shader for this weapon appears to be a worn version of the SUROS Modular shader.
This weapon has an abnormally large magazine for a pulse rifle of the Adaptive archetype.
Images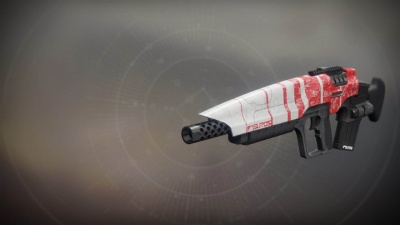 Related Links
---