First In, Last Out
From Destiny 2 Wiki
First In, Last Out PvP Stats
First In, Last Out is a Legendary Shotgun.
Perks - Curated Roll
Intrinsic
Precision Frame - This weapon's recoil pattern is more predictably vertical.
Sight / Barrel
Rifled Barrel - Ranged shotgun barrel.

Increases range
Greatly decreases handling speed
Magazine / Battery
Assault Mag - This shotgun's magazine is optimized for quick combat.

Greatly increases Stability.
Increases Rate of Fire.
Trait 1
Pulse Monitor - Automatically reloads a portion of the magazine when critically wounded.
Trait 2
Vorpal Weapon - Increased damage against bosses, vehicles, and Guardians with their Super active.
Perks - Random Rolls
Possible Sight / Barrel
Possible Magazine / Battery
Possible Trait 1
Possible Trait 2
Notes
The default shader for this weapon appears to be identical to the New Pacific Rush shader.
Images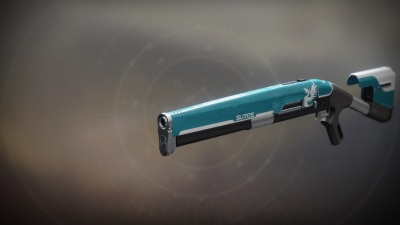 ---