Seven-Six-Five
From Destiny 2 Wiki
Seven-Six-Five PvP Stats
Optimal Time-to-Kill
1.20s
Optimal Kill
4 crit 1 body
Body Shot Time-to-Kill
1.80s
Body Shots to Kill
7 body
Crit Damage
44
Body Damage
29
Seven-Six-Five
is a
Legendary
Scout Rifle
.
Perks - Curated Roll
Intrinsic
Sight / Barrel
Torch HS3 — Omolon red-dot. Medium zoom.

Greatly increases range
Slightly decreases handling speed

Jolt PS - Omolon Post sights. Short zoom.

Increases range
Slightly increases handling speed
Magazine / Battery
Trait
How to Obtain
Detailed explanation on how to acquire Seven-Six-Five
Notes
The default shader for this weapon appears to be a worn version of the Omolon Camo shader.
The name and description for this weapon is a reference to the Japanese idol raising simulator franchise, THE

[email protected]

.
Images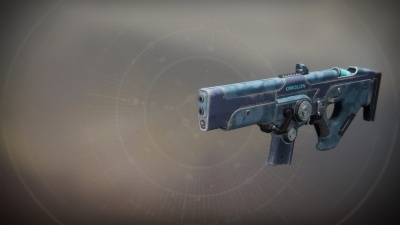 Related Links
---