Sailspy Pitchglass
From Destiny 2 Wiki
Sailspy Pitchglass PvP Stats
Sailspy Pitchglass
is a
Legendary
Linear Fusion Rifle
.
Perks - Curated Roll
Intrinsic
Sight / Barrel
Magazine / Battery
Trait 1
Trait 2
Origin Trait
Perks - Random Rolls
Intrinsic
Possible Sight / Barrel
Possible Magazine / Battery
Possible Trait 1
Possible Trait 2
Possible Origin Trait
How to Obtain
Detailed explanation on how to acquire Sailspy Pitchglass
Notes
Lore
There are shapes on the horizon not yet meant to be seen.
Iriks has good eyes, yes. One on top right dull, filmy, not so good. But others very good. Sharp.

Iriks waits. Motionless. Tastes the thin wind. Rate of speed. Leads target. Takes the shot.

Iriks does not miss. Enemies panic. Again. Again. Quiet.

Iriks sends in his crew. Watches through the scope. One claims more than their share.

Iriks teaches. Body falls. Lesson learned. Quiet again.

Iriks watches his crew open the chest. One holds the treasure high in shaking claws.

Iriks sees the dark glass. Sees the object floating inside. Recognizes. Tightens grip. Holds breath.

Iriks knows what Eramis seeks. Knows what it is worth. Knows what she will pay.

Iriks will take the shot.
Images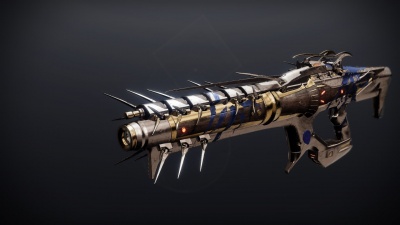 Related Links
---