Reed's Regret (Adept)
From Destiny 2 Wiki
Reed's Regret (Adept) PvP Stats
Reed's Regret (Adept)
is a
Legendary
Linear Fusion Rifle
.
Perks - Curated Roll
Intrinsic
Precision Frame - This weapon's recoil pattern is more predictably vertical.
Sight / Barrel
Fluted Barrel - Ultra-light barrel.

Greatly increases Handling Speed.
Slightly increases Stability.
Magazine / Battery
Liquid Coils - Slower-building charge for higher damage.

Increases Impact damage.
Slower Charge Time.
Trait 1
Quickdraw - This weapon can be drawn unbelievably fast.
Trait 2
Headstone — Precision final blows spawn a Stasis crystal at the victim's location.
Perks - Random Rolls
Intrinsic
Possible Sight / Barrel
Possible Magazine / Battery
Possible Trait
How to Obtain
Detailed explanation on how to acquire Reed's Regret (Adept)
Notes
Lore
Images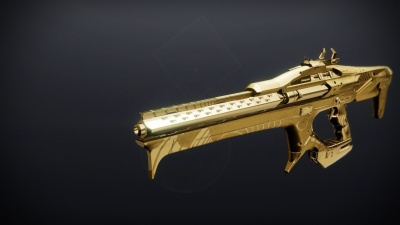 Related Links
---