MIDA Mini-Tool
From Destiny 2 Wiki
MIDA Mini-Tool PvP Stats
Optimal Time-to-Kill
0.93s
Optimal Kill
12 crit 3 body
Body Shot Time-to-Kill
1.20s
Body Shots to Kill
19 body
Crit Damage
14
Body Damage
11
MIDA Mini-Tool is a Legendary Submachine Gun.
Perks - Curated Roll
Intrinsic
Sight / Barrel
Fluted Barrel - Ultra-light barrel.

Greatly increases Handling Speed.
Slightly increases Stability.
Magazine / Battery
Trait
MIDA Synergy - This weapon grants speed benefits when MIDA Multi-Tool is also equipped.
Lore
2472/11/17 -- 4.9°S 0°E
AUDIO ONLY
Strauss is gone. Whole sky alight as his ship set off. I might be the last MIDA survivor on Mars. The gun detected teleports yesterday and I had to move camp. Cannot shake the fear that they will send battleroids; even this AI marvel couldn't save me.
Shot the ice this morning. The gun fired a thermal round and then a pellet of water purifier. Came out pure and sweet. Marvelous. I've been reading the gun's Encyclopedia Arcana. All about the crash that became Strauss's obsession and hope. "Metastability in the salvaged construct!" Ha ha! Let's hope our ideals too can pass through grief, fury, and envy into a new freedom elsewhere.
Wonder if the gun heard me when I asked to go somewhere better. Wonder why it led me here. Going to follow its compass tonight. Down below.
Images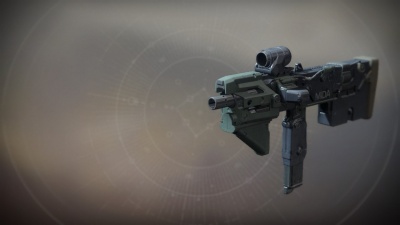 Weapon Ornaments
Patch History
Related Links
References
---