Hoosegow
From Destiny 2 Wiki
Acquisition

Season of Arrivals dungeon.

Hoosegow is a Legendary Rocket Launcher.
Perks - Curated Roll
Intrinsic
Sight / Barrel
Hard Launch - This weapon's launch barrel is optimized for projectile speed.

Greatly increases projectile speed
Decreases stability
Slightly decreases blast radius
Magazine / Battery
Black Powder - This weapon's explosives are more effective.

Slightly increases blast radius
Decreases stability
Trait 1
Trait 2
Quickdraw - This weapon can be drawn unbelievably fast. Handling is improved.
Perks - Random Rolls
Possible Sight / Barrel
Possible Magazine / Battery
Possible Trait 1
Possible Trait 2
Notes
The default shader for this weapon appears to be a worn version of the SUROS Tone shader.
Images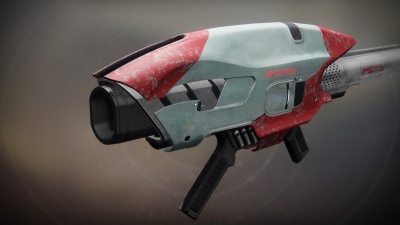 ---