Controlling Vision
From Destiny 2 Wiki
Controlling Vision PvP Stats
Optimal Time-to-Kill
1.00s
Optimal Kill
3 crit 3 body
Body Shot Time-to-Kill
1.20s
Body Shots to Kill
7 body
Crit Damage
38
Body Damage
29
Overview
Controlling Vision is a Legendary Sidearm.
Perks - Curated Roll
Intrinsic
Sight / Barrel
Shortspec SAS - Balanced Sidearm sight.

Slightly increases stability
Slightly increases handling speed
Slightly increases range

Control SAS - Stable Sidearm sight.

Increases Handling Speed.
Increases Stability.

Tactic SAS - Accurate Sidearm sight.

Slightly increases Range.
Magazine / Battery
Ricochet Rounds - Rounds ricochet off hard surfaces.

Increases Stability.
Slightly increases Range.

Alloy Magazine - Faster Reload when the magazine is empty.
Trait
Rampage - Kills with this weapon temporarily grant increased damage. Stacks 3x.
How to Obtain
Detailed explanation on how to acquire Controlling Vision
Notes
The default shader for this weapon appears to be a worn version of the Dead Orbit's Fate shader.
Images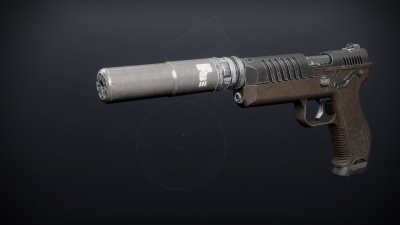 Related Links
---