The Quickstep
From Destiny 2 Wiki

The Quickstep is a Legendary Submachine Gun.


Perks - Curated Roll
Intrinsic
Sight / Barrel
SLO-21 Post - SUROS projection sight. Short zoom.

Increases handling speed
Slightly increases range

SPO-57 Front - SUROS threat evaluation. Medium zoom. Highlights enemy targets.

Greatly increases range
Slightly decreases handling speed

SPO-26 Front - SUROS lightweight red-dot sight. Short zoom.

Increases handling speed
Increases range
Magazine / Battery
Steady Rounds - This magazine is optimized for recoil control.

Greatly increases Stability.
Slightly decreases Range.

Flared Magwell - Optimized for fast reloading.

Slightly increases Stability.
Greatly increases Reload Speed.
Trait
Dynamic Sway Reduction - When holding down the trigger, this weapon's sway-reduction system boosts accuracy and Stability over time.
Mods
How to Obtain
Notes
Images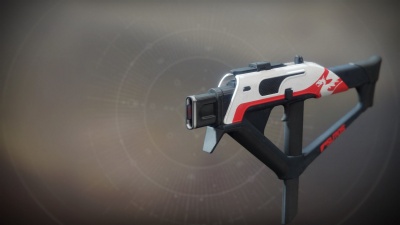 Related Links
---