The Jade Rabbit
From Destiny 2 Wiki
Acquisition
Exotic Engram
May rarely be obtained upon completion of any challenge or dropped from defeated enemies.
Xûr
Occasionally sells this weapon in exchange for 29 Legendary Shards.
The Jade Rabbit PvP Stats
Crit Damage
66
The Jade Rabbit is an Exotic Scout Rifle.
Perks - Curated Roll
Intrinsic
The Fate of All Fools — Chain body shots to gain bonus damage on your next precision shot and return ammo to the magazine.
Sight / Barrel
Magazine / Battery
Armor-Piercing Rounds - Rounds cause extra damage to shields and overpenetrate targets.

Slightly increases Range.
Trait
Zen Moment - Causing damage with this weapon increases its Stability.
Catalyst
Jade Rabbit Catalyst can be obtained by defeating Guardians in the Crucible. To unlock its upgrade, the player has to defeat Guardians in the Crucible with this weapon.
The Catalyst increases The Jade Rabbit's stability by 27 and Masterworks it.
Notes
This Exotic Weapon lacks a Stocks and Grips Perk and uses a normal Trait rather than an Exotic Trait.
The Fate of All Fools' ammo return does not draw from reserves; the Jade Rabbit generates free ammunition on precision hits.
Lore
Do you ever wonder who you were before you were resurrected? Do you experience debilitating anxiety when you think about the cold, crushing fist of death? Has the desire to lie facedown on the floor for hours at a time been holding YOU back?
From the people that brought you Lunal comes prescription-strength Immortalia: a revolutionary new combat elixir shown to relieve the crippling existential crises of your second life. Immortalia can reduce symptoms of listlessness, cynicism, and social anxiety. Side effects may include dancing, salty behavior, and acts of group heroism.
Do not take Immortalia while operating all-terrain thrust bikes.
Images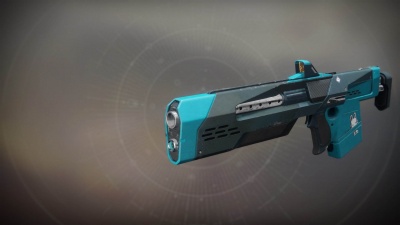 Weapon Ornaments
---