Liminal Vigil
From Destiny 2 Wiki
Liminal Vigil is a Legendary Sidearm.
Perks - Curated Roll
Intrinsic
Barrel
Magazine
Trait 1
Trait 2
Origin Trait
Perks - Random Rolls
Intrinsic
Possible Barrel
Possible Magazine
Possible Trait 1
Possible Trait 2
Origin Trait
Notes
Lore
Cause and effect like a looped corridor. I stand. Ever watchful, forever.
TM -Fireteam, Tex //RECOVERED MISSION TRANSCRIPT: 7-7-7

I am the Watcher.
O'er those sent into night.
Their path traced out of harm.

A thousand times I've dreamt it.
A thousand more to quell alarm.

There is no time of danger,
for those within my watch.
Each night 'til delivered
My vigil restarts.

-For R. I see what you see now. It is calming.
Images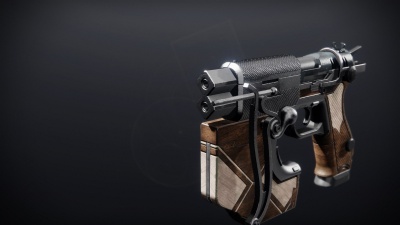 ---