Imset HC4
From Destiny 2 Wiki
Imset HC4 PvP Stats
Optimal Time-to-Kill
1.20s
Optimal Kill
2 crit 2 body
Body Shot Time-to-Kill
1.60s
Body Shots to Kill
5 body
Crit Damage
60
Body Damage
40
Imset HC4
is a
Legendary
Hand Cannon
.
Perks - Curated Roll
Intrinsic
Sight / Barrel
TrueSight HCS - Balanced Hand Cannon sight.

Slightly increases range.
Slightly increases stability.
Slightly increases handling speed.

Sureshot HCS - Pinpoint Hand Cannon sight.

Increases Range.
Decreases Stability.
Decreases Handling Speed.
Magazine / Battery
Flared Magwell - Optimized for fast reloading.

Slightly increases Stability.
Greatly increases Reload Speed.

High-Caliber Rounds - Shots from this weapon knock the target back farther.

Slightly increases Range.
Trait
Dragonfly - Precision kills create an elemental damage explosion.
How to Obtain
Detailed explanation on how to acquire Imset HC4
Notes
The default shader for this weapon appears to be a worn version of the Omolon Meteor shader.
The Imset shares the same model as most D1 hand cannons, such as the Kumakatok HC4.
Images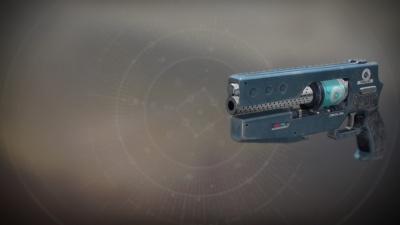 Related Links
---