Refrain-23
From Destiny 2 Wiki
Refrain-23 is a Rare Auto Rifle.
Perks - Curated Roll
Intrinsic
Sight / Barrel
SLO-12 Post - SUROS projection sight. Short zoom.

Greatly increases handling speed

SPO-57 Front - SUROS threat evaluation. Medium zoom. Highlights enemy targets.

Greatly increases range
Slightly decreases handling speed
Magazine / Battery
Ricochet Rounds - Rounds ricochet off hard surfaces.

Increases Stability.
Slightly increases Range.
Trait
Rampage - Final blows with this weapon grant increased damage for an improved duration. Stacks 3 times.
Notes
The default shader for this weapon appears to be a worn version of the Echoes of Io shader.
Images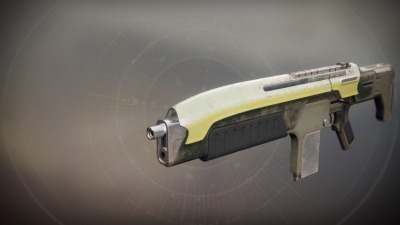 ---