Frostmire's Hex
From Destiny 2 Wiki
Frostmire's Hex PvP Stats
Overview
Frostmire's Hex is a Legendary Scout Rifle.
Perks - Curated Roll
Intrinsic
VEIST Rapid-Fire — Full Auto.

Deeper ammo reserves
Slightly faster reload when magazine is empty
Sight / Barrel
Corkscrew Rifling - Balanced barrel.

Slightly increases Range and Stability.
Slightly increases Handling Speed.

Arrowhead Brake - Lightly vented barrel.

Greatly controls Recoil.
Increases Handling Speed.

Fluted Barrel - Ultra-light barrel.

Greatly increases Handling Speed.
Slightly increases Stability.
Magazine / Battery
High-Caliber Rounds - Shots from this weapon knock the target back farther.

Slightly increases Range.

Extended Mag - This weapon has a greatly increased magazine size, but reloads much slower.

Greatly increases magazine size.
Greatly decreases Reload Speed.
Trait
Dragonfly - Precision kills create an elemental damage explosion.
Mods
How to Obtain
Detailed explanation on how to acquire Frostmire's Hex
Notes
The default shader for this weapon appears to be identical to the Ironwood shader.
Images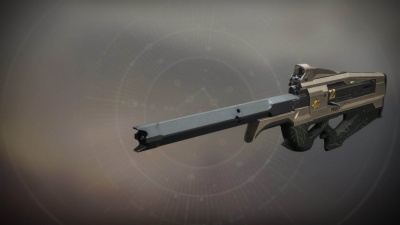 Related Links
---