Dead Man Walking
From Destiny 2 Wiki
Dead Man Walking PvP Stats
Optimal Time-to-Kill
0.93s
Optimal Kill
6 crit 2 body
Body Shot Time-to-Kill
1.20s
Body Shots to Kill
10 body
Crit Damage
27
Body Damage
20
Dead Man Walking
is a
Legendary
Sidearm
.
Perks - Curated Roll
Intrinsic
Rapid-Fire Frame — Full Auto. Deeper ammo reserves. Slightly faster reload when magazine is empty.
Sight / Barrel
Shortspec SAS - Balanced Sidearm sight.

Slightly increases stability
Slightly increases handling speed
Slightly increases range

Tactic SAS - Accurate Sidearm sight.

Slightly increases Range.

Target SAS - Sharp Sidearm sight.

Increases range
Slightly decreases stability
Slightly decreases handling speed
Magazine / Battery
Extended Mag - This weapon has a greatly increased magazine size, but reloads much slower.

Greatly increases magazine size.
Greatly decreases Reload Speed.

Armor-Piercing Rounds - Rounds cause extra damage to shields and overpenetrate targets.

Slightly increases Range.
Trait
Under Pressure - Improved stability and accuracy as the magazine gets lower.
Acquisition
Detailed explanation on how to acquire Dead Man Walking
Notes
The default shader for this weapon appears to be a worn version of the SUROS Tone shader.
Images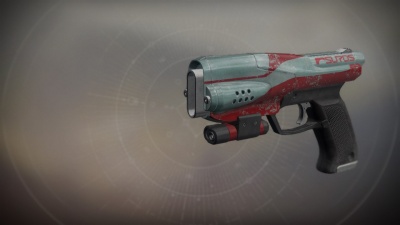 ---