Call to Serve
From Destiny 2 Wiki
Call to Serve PvP Stats
Optimal Time-to-Kill
1.33s
Optimal Kill
3 crit 2 body
Body Shot Time-to-Kill
1.67s
Body Shots to Kill
6 body
Crit Damage
48
Body Damage
34
Call to Serve
is a
Legendary
Scout Rifle
.
Perks - Curated Roll
Intrinsic
Precision Frame - This weapon's recoil pattern is more predictably vertical.
Sight / Barrel
IS 5 Circle - Circular iron sights. Short zoom.

Greatly increases Handling Speed.

Model 8 Red — Red-dot. Medium zoom.
Mark 15 Lens - Ocular sights. Long zoom.

Greatly increases range
Decreases handling speed
Magazine / Battery
Extended Mag - This weapon has a greatly increased magazine size, but reloads much slower.

Greatly increases magazine size.
Greatly decreases Reload Speed.

Appended Mag - This weapon's magazine is built for higher capacity.
Trait
Triple Tap - Rapidly landing precision hits will return one round to the magazine.
How to Obtain
Detailed explanation on how to acquire Call to Serve
Notes
The default shader for this weapon appears to be a worn version of the Dead Zone Foliage shader.
Images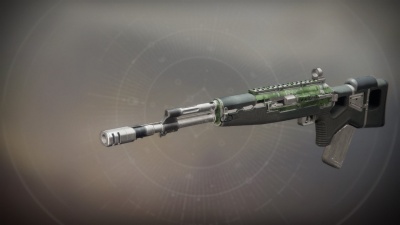 Related Links
---