Whip Scorpion-3MG
From Destiny 2 Wiki
Whip Scorpion-3MG
is a
Rare
Submachine Gun
.
Perks - Curated Roll
Intrinsic
Sight / Barrel
Arrowhead Brake - Lightly vented barrel.

Greatly controls Recoil.
Increases Handling Speed.

Full Bore - Barrel optimized for distance.

Greatly increases Range.
Decreases Stability.
Slightly decreases Handling Speed.
Magazine / Battery
Steady Rounds - This magazine is optimized for recoil control.

Greatly increases Stability.
Slightly decreases Range.
Trait
Tap the Trigger - Grants a short period of increased stability and accuracy on initial trigger pull.
How to Obtain
PvP Profile
Notes
The stats given in this weapon's infobox include the effects of Arrowhead Brake and Steady Rounds. Choosing Full Bore instead of Arrowhead Brake will result in different effective stats.
Images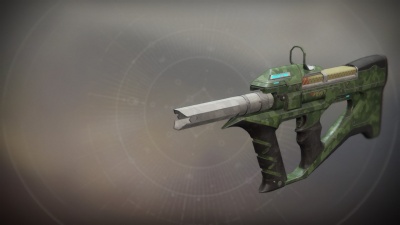 Related Links
---