PLUG ONE.1 (Adept)
From Destiny 2 Wiki
Acquisition

Season of the Splicer Nightfall Grandmaster

PLUG ONE.1 (Adept) PvP Stats
PLUG ONE.1 (Adept)
is a
Legendary
Fusion Rifle
.
Perks - Curated Roll
Intrinsic
Precision Frame - This weapon's recoil pattern is more predictably vertical.
Sight / Barrel
Corkscrew Rifling - Balanced barrel.

Slightly increases Range and Stability.
Slightly increases Handling Speed.
Magazine / Battery
Trait 1
Bottomless Grief - While you are the last living member of your fireteam, each takedown refills your magazine.
Trait 2
Backup Plan - Grants reduced charge time and increased handling speed for a short time immediately after swapping to this weapon.
Perks - Random Rolls
Intrinsic
Possible Sight / Barrel
Possible Magazine / Battery
Possible Trait
How to Obtain
Detailed explanation on how to acquire PLUG ONE.1 (Adept)
Notes
Lore
Images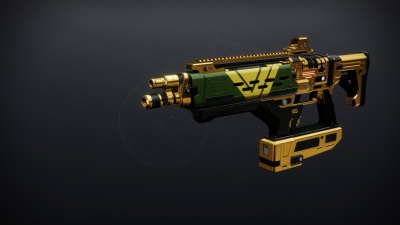 Related Links
---