Flash and Thunder
From Destiny 2 Wiki
Flash and Thunder PvP Stats
Time Between Shots
90s
Flash and Thunder
is a
Legendary
Grenade Launcher
.
Perks - Curated Roll
Intrinsic
Sight / Barrel
Linear Compensator - This weapon's launch barrel is well-balanced.

Slightly increases projectile speed
Slightly increases blast radius
Slightly increases stability

Quick Launch - This weapon's barrel provides faster projectiles and much faster aiming.

Greatly increases handling speed
Increases projectile speed

Hard Launch - This weapon's launch barrel is optimized for projectile speed.

Greatly increases projectile speed
Decreases stability
Slightly decreases blast radius
Magazine / Battery
Blinding Grenades - Grenade detonation has a brief blinding effect.

Greatly decreases blast radius.

Concussion Grenades - Grenades fired from this weapon emit a blast that staggers enemies.
Trait
Field Prep - Greatly increased ammo reserves. Improved faster reload, stow, and ready when you're crouching.
Acquisition
Detailed explanation on how to acquire Flash and Thunder
Notes
The default shader for this weapon appears to be a worn version of the Echoes of Io shader.
Images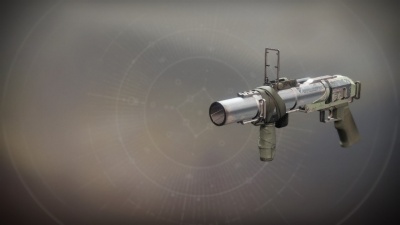 ---