Edgewise
From Destiny 2 Wiki
Edgewise
is a
Legendary
Machine Gun
.
Perks - Curated Roll
Intrinsic
Rapid-Fire Frame - Deeper ammo reserves. Slightly faster reload when magazine is empty.
Sight / Barrel
Magazine / Battery
Light Mag - Improved reload and range.
• Increases reload speed
• Slightly increases range
Trait 1
Feeding Frenzy — Kills with this weapon increase reload speed for a short time.
Field Prep - Increased ammo reserves. Faster reload when crouched.
Trait 2
Rampage - Kills with this weapon temporarily grant increased damage. Stacks 3x.
Demolitionist - Kills with this weapon generate grenade energy. Activating your grenade ability reloads this weapon from reserves.
Mods
Empty Mod Socket: Boss Spec, Counterbalance Stock, Backup Mag, Freehand Grip, Icarus Grip, Major Spec, Minor Spec, Radar Tuner, Taken Spec, Targeting Adjuster, Radar Booster, Sprint Grip, Rampage Spec, Dragonfly Spec, Surrounded Spec, Quick Access Sling
How to Obtain
If you want to earn the Edgewise Machine Gun, you'll need to head on over to Commander Zavala and receive the First Impressions quest:
Complete the following objectives in strike playlists to receive the Solar Machine Gun Edgewise. Earn points by defeating enemies. Difficult strikes grant the most efficient progress.
"Heavy ordnance requisition approved, Guardian. Make your presence known to the enemies of humanity, far and wide." —Commander Zavala
You'll need to complete the following objectives to complete this quest:
Points Scored: 10,000
Machine Gun Final blows: 1,000
Solar Kill Final blows: 1,500
Once you've completed those objectives, you'll just need to return to Zavala at the Tower and receive your reward!
Notes
Lore
Images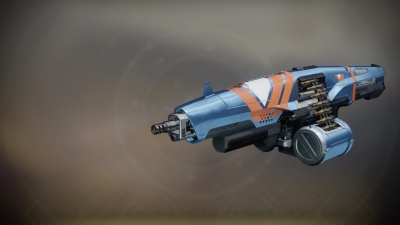 Related Links
---