Daedalus Code
From Destiny 2 Wiki
Daedalus Code PvP Stats
Optimal Time-to-Kill
1.20s
Optimal Kill
2 crit 2 body
Body Shot Time-to-Kill
1.60s
Body Shots to Kill
5 body
Crit Damage
60
Body Damage
40
Daedalus Code
is a
Legendary
Hand Cannon
.
Perks - Curated Roll
Intrinsic
Sight / Barrel
Fastdraw HCS - Agile Hand Cannon sight.

Greatly increases Handling Speed.
Slightly increases Stability.

Crossfire HCS - Sharp Hand Cannon sight.

Increases Range.
Slightly decreases Stability.
Slightly decreases Handling Speed.
Magazine / Battery
High-Caliber Rounds - Shots from this weapon knock the target back farther.

Slightly increases Range.

Extended Mag - This weapon has a greatly increased magazine size, but reloads much slower.

Greatly increases magazine size.
Greatly decreases Reload Speed.
Trait
How to Obtain
Detailed explanation on how to acquire Daedalus Code
Notes
The default shader for this weapon appears to be a worn version of the Vanguard Magnus shader.
Images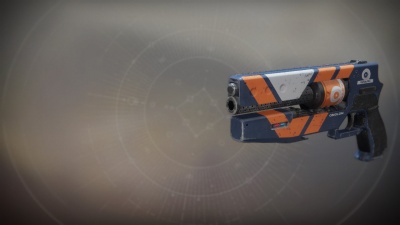 Related Links
---