Adjudicator
From Destiny 2 Wiki
Adjudicator PvP Stats
Optimal Time-to-Kill
0.90s
Optimal Kill
10 crits
Body Shot Time-to-Kill
1.20s
Body Shots to Kill
13 body
Crit Damage
20
Body Damage
16
Adjudicator is a Legendary Submachine Gun.
Perks - Curated Roll
Intrinsic
Sight / Barrel
Magazine / Battery
Trait
Notes
Lore
You sought us out in the deep black.
meditation wasn't enough for you
GO AND TOUCH THE HISSING SILENCE
Do not fear being submerged.
Not many ships go that far, these days.
you went through hell to get one, and then again to get out there
YOU FOUND THE DEVIL HIMSELF.
A G O L D E N S N A K E A D E V I L W H O P O S E S A S G O D
No more a god than you.
YOU DIDN'T FIGHT HIM.
Y O U T U R N E D A R O U N D S M A R T
Others did.
while we watched
Images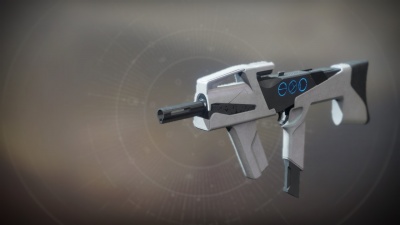 ---