Triumph DX-PR
From Destiny 2 Wiki
Triumph DX-PR is a Uncommon Pulse Rifle.
Perks - Curated Roll
Intrinsic
High-Impact Frame - Slow firing, and high damage. This weapon is more accurate when stationary and aiming down sights.
Magazine / Battery
Red Dot Micro - Agile sight. Short zoom.

Increases Range.
Increases Handling Speed.

Rifle Scope SSF - Focused scope. Long zoom.

Slightly increases Range.
Slightly decreases Handling Speed.
Trait
How to Obtain
PvP Profile
Works good in PvP if used correctly
Notes
The default shader for this weapon appears to be a worn version of the Dusk Mine shader.
Images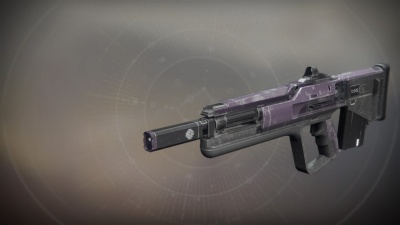 Related Links
---