Shock and Awe
From Destiny 2 Wiki
Shock and Awe PvP Stats
Bolts Fired
6
Damage per Bolt
52
Bolts to Kill
4
Shock and Awe
is a
Legendary
Fusion Rifle
.
Perks - Curated Roll
Intrinsic
High-Impact Frame - Slow-firing and high-damage. This weapon is more accurate when stationary and aiming down sights.
Sight / Barrel
Spark PS - Omolon post sight. Short zoom.

Slightly increases range
Increases handling speed

Torch HS3 — Omolon red-dot. Medium zoom.

Greatly increases range
Slightly decreases handling speed
Magazine / Battery
Trait
Backup Plan - Grants reduced charge time and increased handling speed for a short time immediately after swapping to this weapon.
How to Obtain
Detailed explanation on how to acquire Shock and Awe
Notes
The default shader for this weapon appears to be a worn version of the Omolon Camo shader.
Images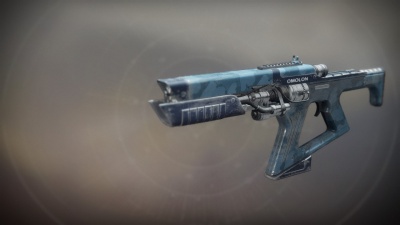 Related Links
---