Lord of Wolves
From Destiny 2 Wiki
Acquisition
Exotic Engram
May rarely be obtained upon completion of any challenge or dropped from defeated enemies.
Xûr
Occasionally sells this weapon in exchange for 29 Legendary Shards.
Lord of Wolves is an Exotic Shotgun.
Perks - Curated Roll
Intrinsic
Sight / Barrel
Chambered Compensator - Stable barrel attachment.

Increases Stability.
Improves Recoil Direction.
Slightly decreases Handling Speed.
Magazine / Battery
Extended Mag - This weapon has a greatly increased magazine size, but reloads much slower.

Greatly increases magazine size.
Greatly decreases Reload Speed.
Trait 1
Trait 2
Composite Stock - This weapon has a versatile dual-purpose stock.

Slightly increases Stability.
Slightly increases Handling Speed.
Catalyst
Fang and Claw — Increases reload speed while Release the Wolves is active, and increases stability when it is not.
Lord of Wolves Catalyst can be obtained by completing strikes, Gambit, and Crucible activities. To unlock its upgrade, the player has to defeat enemies with this weapon.
The Catalyst adds the Fang and Claw perk to this weapon and Masterworks it.
Notes
Release the Wolves doubles the number of pellets in each spread for a short time after a kill.

Triggering the effect instantly reloads the weapon, but the effect also doubles ammo consumption for the duration.
Lore
"Why did they call themselves Wolves?" the Hunter asks. "You guys don't have any wolves on your home world, do you?"
"Nama," the Captain replies. He has perched on a rusted-out Skiff. He scans the horizon, trying to remember the way to the crypt.
"So... Why, then? Most people haven't even seen one."
"Yeah," the Warlock chimes in. "I'd never even heard of wolves 'til I went to the Iron Temple."
The Captain cocks his head in a way that makes him look very like a squat, hulking owl. "Why Eliksni accept name 'Fallen'? Why Wolves accept name 'Wolves'? Why Misraaks is now," he grimaces as he mimes their accents, showing his serrated teeth, "Miff-racks?" He rises in one fluid motion and stands at his full height. "Why speak Guardian way instead Eliksni? Docked things do not word themselves."
He hops down, brushing past the Hunter and the Warlock with the rippling strength of a hunting tiger. "House of Wolves, they been Mraskilaasan. Gentle weavers. Come. I know the way now."
Images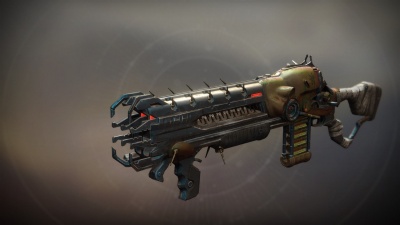 ---