Home for the Lost
From Destiny 2 Wiki
Home for the Lost PvP Stats
Home for the Lost
is a
Legendary
Hand Cannon
.
Perks - Curated Roll
Intrinsic
Sight / Barrel
Sureshot HCS - Pinpoint Hand Cannon sight.

Increases Range.
Decreases Stability.
Decreases Handling Speed.

HitMark HCS - Accurate Hand Cannon sight.
TrueSight HCS - Balanced Hand Cannon sight.

Slightly increases range.
Slightly increases stability.
Slightly increases handling speed.
Magazine / Battery
Alloy Magazine - Faster Reload when the magazine is empty.
Steady Rounds - This magazine is optimized for recoil control.

Greatly increases Stability.
Slightly decreases Range.
Trait
Quickdraw - This weapon can be drawn unbelievably fast. Handling is improved.
Mods
How to Obtain
1. Can be obtained from the Gunsmith. 2. ???
PvP Profile
Notes
The default shader for this weapon appears to be a worn version of the Dead Zone Bark shader.
Images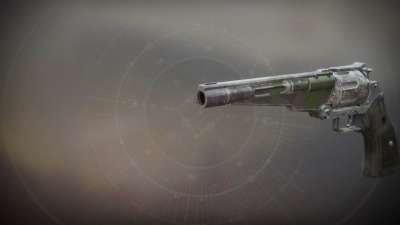 Related Links
---