Forte-15
From Destiny 2 Wiki
Acquisition

Earned while leveling.

Forte-15 is an Uncommon Submachine Gun.
Perks - Curated Roll
Intrinsic
Magazine / Battery
SPO-57 Front - SUROS threat evaluation. Medium zoom. Highlights enemy targets.

Greatly increases range
Slightly decreases handling speed

SPO-28 Front - SUROS holo sights. Medium zoom.

Increases range
Slightly increases handling speed
Trait
Steady Rounds - This magazine is optimized for recoil control.

Greatly increases Stability.
Slightly decreases Range.
Notes
The default shader for this weapon appears to be a worn version of the New Pacific Rush shader.
Images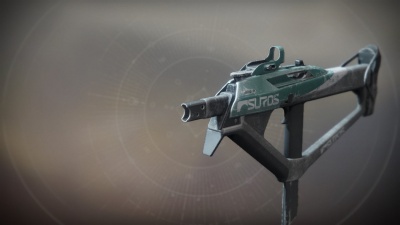 ---