Copperhead-4sn
From Destiny 2 Wiki
Copperhead-4sn PvP Stats
Crit Damage
250
Body Damage
100
Time Between Shots
0.43s
Copperhead-4sn is a Legendary Sniper Rifle.
Perks - Curated Roll
Intrinsic
Rapid-Fire Frame - Deeper ammo reserves. Slightly faster reload when magazine is empty.
Sight / Barrel
Full Bore - Barrel optimized for distance.

Greatly increases Range.
Decreases Stability.
Slightly decreases Handling Speed.

Smallbore - Dual strength barrel.

Increases Range.
Increases Stability.

Arrowhead Brake - Lightly vented barrel.

Greatly controls Recoil.
Increases Handling Speed.
Magazine / Battery
Tactical Mag - This weapon has multiple tactical improvements.

Slightly increases Stability.
Slightly increases Reload Speed.
Slightly increases magazine size.

Flared Magwell - Optimized for fast reloading.

Slightly increases Stability.
Greatly increases Reload Speed.
Trait
Firmly Planted - Increased accuracy, stability, and handling when firing while crouched.
Notes
The default shader for this weapon appears to be a worn version of the VEIST Poison shader.
Images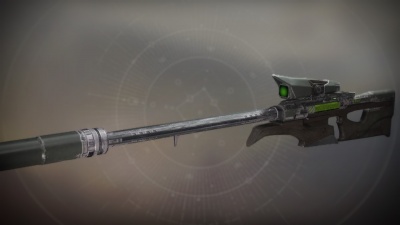 ---